TAKE A GOOD LOOK AT THE PICTURES, I GOT LOTS TO SELL.
These are hummer H3 grilles rite after trimming. These would get sent off to either paint or chrome then shipped to the factory as the next step in their life. The color is a dark gray with a smooth heavy plastic finish. Because of storage and handling they got minor rubs and scratches on all of them. I tossed all the ones that were cracked or broken. They come with no hardware so you will have to remove whats on your existing grille or purchase the hardware pack from GM and install. The holes for the studs are not tapped out but I tapped mine out with the stud itself by hand and it was super easy. I will do quick write-up and link it to the thread when Im done. One last note there are 4 tabs around the light openings on the back side that need trimmed or snapped off. They are where the robots grab onto for paint or chroming then get shaved off later. I can remove them for you (they have to be removed to install) with a dremel or you can keep them on for painting yourself.
Use these as you wish. Im leaving mine as is so I can F it up and not care, you can paint or Line-x them and save yourself a few hundred over buying even a used one.
I accept paypal and money order or money gram. I prefer money order that way theres no fees. I have a few references from other things Ive sold around the country if you would like them.
Install info
http://www.clubhummeroffroad.com/forum/ ... php?t=6829
IF YOU WOULD LIKE ONE PLEASE EMAIL ME AT offroadtech@gmail.com

Installed, this one was the worstg of the group
.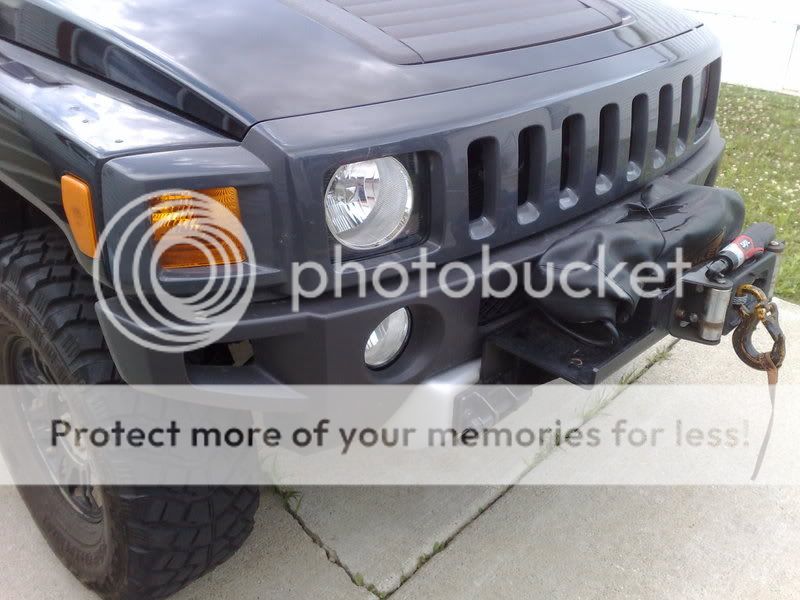 Perfect fit
Typical few rubs
Typical scratch
Back side, one of the tabs that need cut
Tab I cut from the backside
From the front you cant even see where the tab was.